The Thiess workforce compliance process is completed in two parts: business registration and worker registration.
We suggest you read through the instructions and give yourself time to source the information needed to work for Thiess.
A nominated administrator from your business will complete this process for your company and each worker. You must also register any subcontractors you engage to work at Thiess on behalf of your company.
User guides with screenshots can be found on the Help and Resources page.
Simply click to expand each section below.
LET'S GET

STARTED
STAGE 1: BUSINESS REGISTRATION
Step 1 > Register a user name and password
The Thiess Workforce Management System can be found by clicking REGISTER at the top of the page.
Start by entering a user name of your choosing, plus your email address and a password. You'll be emailed confirmation.
Step 2 > Register business details and answer profile questions
Using your new details, login to the Thiess Workforce Management System.
Follow the process to register your business by answering profile questions and selecting the insurances and licences you can supply to support your registration.
Step 3 > Pay for registration
Business registration in the Thiess Workforce Management System is $100 + GST annually for the verification of your documents and information, and the maintenance of your account.
Step 4 > Upload documents for verification
You will be prompted to upload copies of the licences and insurances you selected earlier in the process for verification.
You'll be emailed when your documents are verified or if any corrections are required to finalise company registration. Documents may include but are not limited to:
– Public and Product Liability Insurance
– Workers Compensation Insurance
– Professional Indemnity Insurance
– AS4801/ISO18001 Certificate
To complete your registration, you will next be invited to register your workers. Please click to expand Stage 2.
STAGE 2: WORKER REGISTRATION
Invitation to manage workers
On successful business registration, you will be invited to login to register and manage your workers. Before proceeding to the system, please complete step 1: induction booking request below.
Step 1 > Induction Booking Request
To ensure all workers are inducted onto site, complete an electronic Induction Booking Request form for each worker. Once approved, a signed PDF document will be returned which you will need to upload during the registration process.
Step 2 > Source Order 43 Medical Notification Letter
Email each worker's NSW Coal Compliant Medical and Chest X-Ray (ILO) Reports to health@thiess.com.au. Once approved, an Order 43 Medical Notification letter will be returned which you will need to upload during the registration process.
If you have any questions about the medical approval process, please email health@thiess.com.au.
Step 3 > Login to manage workers
Please click the link and login to the system using the details in the invitation email sent by Pegasus.
Step 4 > Add workers
Once logged in, start by selecting Manage Roles and then Add New Employee. From here you can enter and save their personal contact details, address, phone and their unique email address. Please do not enter your own email address or a shared email address.
Step 5 > Pay for worker registration and access ID card
Pay for your worker's registration and order their access ID cards to work for Thiess.
– Worker registration costs $85+ GST per person for the first year for the management of roles, verification of documents, and supply of card.
– Annual renewal costs $50 + GST per person
– Replacement cards are $30 + GST.
A tax invoice will be supplied on payment.
Step 6 > Add roles, upload documents and book training
You will next select your worker's name to Add New Role and choose the role/s they'll perform for Thiess. Your selections will determine the documents you'll upload in the system to prove your worker can perform the chosen role/s:
– Induction Booking Request form
– Proof of Identification
– Order 43 Medical Notification letter
– Letter of Competency
– Licences / Certificates / Qualifications as required for each role
If a role selected requires the worker to be appointed, you will be prompted to download and complete a Thiess Electrical/Mechanical Appointment Form. Complete and upload the form – it will be signed by a Thiess Engineer when your registration is complete.
On site Area Inductions will be booked via the calendar in the portal, and cost $10 + GST:
Mt Arthur South Admin Area Induction
Mt Arthur South Production Area Induction
Mt Arthur South Maintenance Area Induction
Inductions will only be booked for your workers after the documents you have uploaded are approved and verified. At that time:
for online courses, the worker will be automatically enrolled and receive a link and login details to complete the training.
for classroom courses, the person who submitted the application will receive an email with a link to select a classroom session in the system. Details will be emailed on enrolment.
Workers will receive a booking confirmation email for their Thiess Mt Arthur South Area Induction. Seven days prior to that induction, Thiess will enrol the worker in online learning which must be completed prior to attending the on site area induction. The worker will receive an email from Thiess LAAMP training system welcome@laamp.com.au with instructions, username and password. Please see LAAMP User's 'How to' Guide.
If your worker has not received the email from Thiess LAAMP system four days prior to their booked on site area induction, please contact mtarthursouthinductions@thiess.com.au. All online training in LAAMP must be completed prior to on site area induction day.
If a worker has not been on site for over four consecutive months, they will be blocked from accessing site and required to re-sit the induction. Please contact Pegasus to have your worker booked in for a suitable date.
Pegasus validates documents and applies roles
Pegasus will validate the documents you've uploaded during registration. You'll be emailed and given a chance to update the information if required. Upon document approval and induction completion, the roles will be applied to your worker's profile and their access ID cards printed and sent.
You may also wish to invite your registered employees to the Worker Portal, where they can manage their own compliance. Simply select the Invite Employee option from their profile. Visit the Worker Portal page for more information.
It's important that you keep worker's details up to date, and you'll be emailed about expiring documents and information to stay compliant.
Process wheel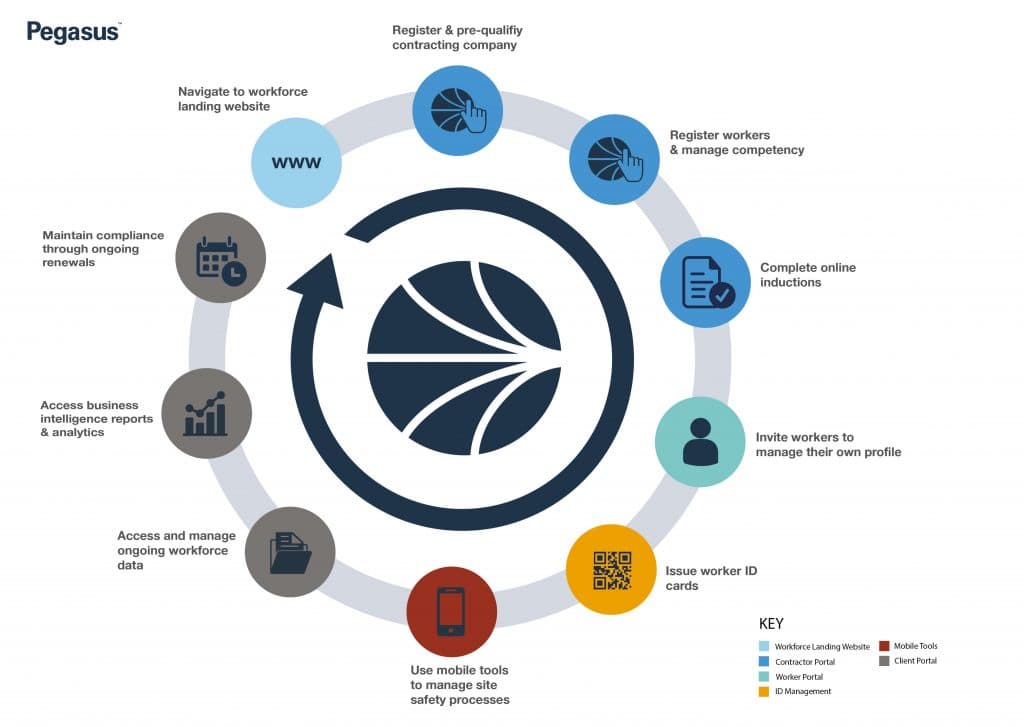 Ongoing system access
Once you have completed both stages to register, the system can be accessed by creating a Pegasus Gateway account, and adding the Thiess tile. This allows you to access both parts of the Thiess Contractor Management System from one place with one login.
We suggest you save Pegasus Gateway to your bookmarks for easy access > login.poweredbyonsite.com
Click for resources to help you set up a Gateway account.